---
20 February
We are proud to include the logo for our new sponsor Chep at the of this page. Please visit their site to discover more about Chep's business, whose European office is on Weybridge Business Park.

Circuit training sessions resume at Heathside School after the half-term. Tuesdays 7pm-8pm in their sports hall.

Congratulations to Walton RC for retaining the Hyne Cup. Full results are on-line.
---
18 February
3 eights rowed down from Weybridge to Molesey Veterans Head today in increasingly sunny and mild conditions. There were wins for Mas.H 8+ and W.Mas.E 8+ ; Mas.E 8+ came 6th from 9 crews in their event. Thanks to the supporters Martin, Anne, Simon & Caroline who operated the lock to allow smooth passage in both directions.

Hyne Cup details are available from Walton RC. Please note the starting order is not sequential !
---
9 February
Hyne Cup race was postponed due to the strong stream last weekend. A new date of Sunday 19th February has been arranged.

Please take advance warning of local road closures on Sunday 5th March due to the Weybridge 10K run. The Club will be accessible via Portmore Park Road & Radnor Road.
---
30 January
Results are in from Quintin Head where the exciting racing was often side-by-side : there were wins for both men's & women's Masters 'E' crews; 2nd place for WJ16; and 16th from 24 for W.IM3 crew.
---
26 January
We have 4 eights racing at Quintin Head on the tideway this Saturday.
Thames Valley Trial Head
has been cancelled because Dorney Lake is frozen.
---
23 January
Weybridge Winter Head was held in chilly but sunny & calm conditions. Well done to all participants, both on and off the water. We know that for many folk it was a long day but hugely worthwhile to see 250 boats racing down our reach. If any winners departed before collecting their prizes, please email Rachel to arrange logistics : info @ weybridgerowing.org.uk .
---
20 January
The stream is decreasing and yellow boards have already disappeared. Winter Head is ON for all events, including J14 & WJ14. The weather forecast for race day is cold but sunny with a gentle head breeze. Please wear lots of clothes if you are on the river or along the towpath.
---
16 January
The start order for Saturday's Weybridge Winter Head is published on-line. We have 12 crews taking part, ranging from J14 to Masters H.
---
10 January
Here are the results of last Sunday's time trial session. Thanks to all the helpers on the towpath who made it happen.
---
8 January 2017
January's Sunday Social also included the presentation by the Captain of the Spreadbury Cup for 2016. Congratulations to Anne Morris who has been recognised for all of the time, commitment and help she has offered in coaching and supporting the large group of new adult members over the past year; plus helping with the junior learn-to-row courses and the two school groups during the week-days.

A reminder that circuit training sessions resume this week at Heathside School gym: Tuesdays 7pm-8pm.
---
14 December
Circuits at Heathside have completed from this term. Sessions resume Tuesday 10 January at 7pm.

There was a mix-up at Walton Small Boats which has now been corrected. As a result, Ashley & Eva have been awarded medals as the fastest mixed Masters B/C 2x.
---
13 December
We have received the sad news of the passing of Keith Coates yesterday at the age of 88. Keith joined Weybridge in the late 1960s. He served as Secretary 1969-72 and was our President 1982-86. His son Roger rowed at Weybridge in the 80s and 90s and we convery our condolences to him at this time.
---
12 December


The Weybridge Christmas Pudding Races are this Saturday (17th) between 0930-1300. The sign-up document

is

linked here .

Sign-ups by Tuesday, please, so we can plan ahead. All members are welcome to participate and there is no entry fee. Catering is kindly arranged by Lara & Gus.



Club recorded 5 wins at Walton Small Boats Head which was held in ideal conditions. Well done to these four doubles : Emma & Sandra, Lara & Jayne, Judy & Anne, Rachel & Jacqui; plus Geoff D in his single.
---
8 December
Walton Small Boats Head is this Saturday (10th) in 3 divisions at 10:00, 12:00 and 14:00. We have over 30 entries across all age ranges. The lower pontoon will be moored at Cowey Sale so please allow a little extra time for getting afloat.



Also on Saturday, it's the British Rowing Indoor Championships. Theo Doyle is in Yr8 500 event; Seb Cook 6th form 500m & 2000m; Camilla Campbell women's 30-39.


Good luck to all.
---
7 December
We've added a link to the river flow meter data above. This may prove more useful than the Shepperton height gauge.
We find the following correlations:
100 m3/sec = yellow boards & top of our pontoon is leveel with bottom step.
140 m3/sec = club red/yellow boards & river is level with bottom step
180 m3/sec = no rowing at all.

Sunday's Charity raffle raised in excess of £600. CRISIS charity will be able to support 10 homeless people over Christmas. Thank you to everyone who supported the event and to Greg Jones for his organising efforts.

---
5 December
Sunday's time-trial results are now published on-line. Thanks to all who helped out despite the cold conditions.
---
2 December
British Rowing have updated the RowSafe code. All members are encouraged to read it here. The purpose is to help people participate in rowing without putting themselves or others at unacceptable risk. It makes clear that everyone is expected to take care of their own safety and the safety of others.

The next time-trial is on Sunday. Followed by the 200 Club draw and Christmas Charity raffle. If you cannot attend, please contact Greg Jones for raffle tickets.
---
23 November
The river levels have risen after the recent heavy rain. Please take care out there, especially in the vicinity of D'Oyly Carte Island where there are reports of a tree stuck in mid-channel between top of the island and the towpath bank.
---
22 November
Good luck to our 5 people taking on the challenge of the Scullers Head on Saturday : Ashley, Rachel, Anne, Jon H & Laszlo.

The tree-trimming vets have kindly removed the over-hanging willow just before Shepperton weir. So there is now a clear line-of-sight between our landing stage and D'Oyly Carte Island. Thanks to Graham C & Eric for their efforts.

In conjunction with the 200 Club, we are running the annual charity raffle again this year on Sunday 4th December at 12noon. Prior to that, donations of botles & chocolates can be left in the box in the corner of the club room. Thank you for supporting Crisis at Christmas.
---
15 November
240 crews contested the Veteran Fours Head. We had wins for H4- (124th overall) and Women's E4+ (144th overall). Thanks to Ashley & Geoff for managing the trailer.
---
11 November
Good luck to our 6 crews racing at the Veteran Fours' Head on the Tideway on Sunday. Start time is 1030 from Putney, finishing at Mortlake this year.



This Saturday (12th), Clive is taking part in the Lord Mayor's parade in London. He'll be on or near float for the Worshipful Company of Joiners & Ceilers. BBC1 10.45 until 12.00.
---
7 November
Results from Sunday's time-trial session are now posted on-line. Thanks to all who took part or helped-out in chilly conditions.

Our Christmas Lunch is on Sunday 11th December at 1pm. The sign-up sheet is now available. Please remember that places are limited by the size of the clubroom.
---
3 November
The contact list has been updated to include the new vice-captains Clive Capel & Lara Conaway, new chairman Fiona McAnena plus the current coaching team & squad co-ordnators.

This Saturday is Kingston Small Boats Head where we have 5 boats entered from the seniors & masters squad.
---
24 October
Silver Sculls
ran in ideal conditions on Saturday, with minimal stream and a gentle tailwind. Weybridge enjoyed 3 wins : WJ14 4x, W.Mas.Nov 2x and IM2 1x. Plus a number of 2nd & 3rd places. Well done.
Thank you to all who helped organise and run the event. Amongst the feedback on race-day, one passing cruiser driver commented : "this is quite a sight, it is spectacular".

At the
Head of the Charles
, conditions were much more windy. We see some very pleasing results : Women's Masters Eight came 20th from 42; Rachel was 11th from 31 Masters singles; and Laszlo was 52 from 56 in his Masters 1x.
---
21 October
Next week is half-term, so there will be no circuits at Heathside on Tuesday 25th October. The clubhouse is available for training until Weyfarers arrive at 7.30pm.

Thank you in advance to everyone involved with Silver Sculls, both on and off the water. Did you know that folks from the masters H eight have been out there trimming the trees since early October?
---
19 October
Good luck to our 3 boats taking part at the Head of the Charles in Massachusetts on Saturday.

Much nearer to home, we have 17 entries in Silver Sculls on Saturday. Best of luck to everyone, especially those racing for the very first time.
---
18 October
Despite predictions of thunder, rain and gales, 4 crews braved the Pairs Head on Sunday and found sunshine, although the conditions did get a little challenging in places. Provisional results show a good win for WE 2- comprising Rachel & Mags and second and third places respectively for WMas G2x and Mas G2x.
---
17 October
The Silver Sculls starting order has been published. We were able to accommodate everyone on the waiting list.

All crews please note that EA dredging operations are happening during weekdays in the vicinity of D'Oyly Carte Island and Thames Valley Skiff club. Please keep a careful look-out for the big black barges and warning buoys.
---
10 October
Silver Sculls is now fully subscribed across all divisions. In case of any withdrawals, Rachel is holding a waiting list based upon email of name, club name & racing licence number.

Burway Small Boats Head was held in good conditions on Saturday. We had 3 good wins : Women's Novice 4+, Masters E/F 1x, and Women 's J15 4x+. Plus some 2nd and 3rd places for a number of juniors & seniors racing for the first time. Well done.
---
5 October
The entry for Silver Sculls is filling-up quickly. Division 1 is already fully subscribed with 120 boats.

We have a sizeable entry for this Saturday's Burway Small Boats Head.
---
30 September
The results of the recent 200 Club draw are now posted.

Winter circuit training sessions start at Heathside School from Tuesday 4th October at 7pm. Again, the contribution to the hire of the hall is just £1 per session. All are welcome.

We extend a welcome to Diarmuid Fehily who joins our coaching team this month. Thankyou to John Keen-Tomlinson who returns to his studies.
---
23 September
Jacqui Parry competed in composite crews at Word Rowing Masters Regatta in Copenhagen. Remarkably she won 4 events in different boat types: H4x, F4+, H4- and F8+.

Our women's IM3 4x won their event at Boston Marathon by a huge 30 minutes. Well done.

We've updated the committee page following last night's AGM. Subscriptions remain unchanged from last year.

Sad news about Beryl Crockford who was a regular visitor to our towpath as chief coach for LEH 1989-2002. She also raced at Silver Sculls, most recently winning Vet.C in 1999.
---
21 September
Here's a reminder that the Club's Annual General Meeting is on Thursday 22nd September starting at 7.30pm.

Naomi Riches completed her scull down the full length of the Thames in 47hrs 59mins 54secs.
---
16 September
Naomi Riches, MBE, 2012 Paralympic gold medallist, will be sculling through Weybridge on Sunday night / Monday morning (18/19 Sept) in her attempt to become the fastest woman to scull the length of the navigable Thames - 165 miles from Lechlade to Gravesend. There's more information at www.thegreatthamesrow.org w
hich includes a sponsorship link if anyone wishes to do so. If she's on schedule she'll be leaving Old Windsor at around 21:00 on Sunday and arriving at Kingston at 01:30 on Monday, so should pass Weybridge roughly 23:00 to midnight-ish. Thanks to Richard Packer for the information.

Plans are afoot to improve the pontoon provision at Weybridge. This is a joint project involving Weyfarers and the regattas & heads on our reach who use our landing stage for visiting crews.

Good luck to our women's 4x who are taking on the 31-mile Boston Marathon this Sunday.
---
12 September
Jubilee High School in Addlestone have posted their promotional video. It includes many shots of their pupils rowing at Weybridge.

Silver Sculls on Saturday 22nd October. Please can all members keep this date free? We need volunteers across all 4 divisions, plus some setup on the preceeding Friday. Please let Rachel know your availability for supporting this ever-popular event.
---
6 September
Four Weybridge

crews raced the 21.6km Great Ouse Marathon on Sunday. It was very windy with a 25mph head wind for most of the way. The three novice crews - many of whom only learned to row in May - all set new course records for Wmas N 2x, Mix Mas N 4x+ and Mix Mas N2x. The IM2 mixed 4x- crew just missed the 2009 record set in near windless conditions. Congratulations to all involved.

Rebecca would like to thank everyone for their kind donations at last weekend's charity bake sale. We raised £40 for St John Ambulance in just 30 minutes!

Sunday's time trial results are published here.
---
31 August
The Club's Annual General Meeting is on Thursday 22nd September starting at 7.30pm. Please note this time is earlier than previously advised due to popular demand.
The nomination forms are pinned up in the clubhouse for captain, officers & committee members. Nominations close a week before the AGM itself.

The next Sunday Social is nearly upon us - 4th September from 12noon in the clubhouse. All are welcome.
---
11 August
Thankyou to all those who helped at the work-day at the club yesterday.
---
8 August
Two wins at hot & sunny Maidenhead Regatta : mixed Mas.D/E 2x for Phil & Dashiell and women's Mas.F 2x for Rachel & Jacqui.
Three wins at Molesey Regatta : women's Mas.E 2x for Judy & Anne , women's F 4x and mixed D 8+.
---
7 August
We had a fabulous day at the community regatta; the weather was kind and even summery at times, the crews all rowed very well and the food was excellent.
Winners of the B (new to rowing) and A (at least one in the crew has some rowing experience) regattas were Tesla and CHEP. Both finals were closely contested races. David Gaylard was on hand to capture the day with his camera.


A big thank you to all our sponsors, to the local businesses who supported our event and to the many volunteers who made it happen.
---
27 July
Weybridge Community Regatta is happening this Friday (29th) in Desborough Cut, commencing at 10am. The crews have been busy training for it in recent weeks. Thankyou in advance to the large number of members who are helping out both on-water and on-land. Last-minute helpers & supporters are always welcome. The event is based at Elmbridge Canoe Cub.

There was a convincing win for Zoe in women's IM3 1x at Staines Regatta last Saturday.
---
15 July
There are 7 Weybridge entries at Molesey regatta on Saturday.

News via British Rowing of the recent passing of Keith Osborne, vice-president and former secretary of Walton & Weybridge Regatta.

The local media are reporting on a night-time accident this week at Shepperton weir.
---
13 July
The new Constitution was overwhelming approved at the EGM on Monday night. Thank you to everyone who attended. The on-line version of the rules has been duly updated.
---
12 July
Lydia & Ailsa won WJ16 2x at Kingston Regatta. Their closest race was the semi-final where they finished just 2 feet ahead of Guildford. Well done.

We need to belatedly report on Henley Women's Regatta : we had a Senior 4x (Jane, Emily W, Emily B, Claudine) who raced the seeding time-trial on the Friday; followed by a first round tie against Imperial College. The HWR commentary remarked on their tidy sculling but it was not enough against more powerful opposition.
---
11 July
We are delighted to hear that Emila Cole & Megan Pickering have been selected to race in the England U23 4+ and 8+ at the Home International Regatta to be held at Cardiff Bay in 2 weeks' time. Congratulations and best of luck.

We saw some great racing at Henley Masters Regatta which resulted in 3 wins for Weybridge crews: H4-, H8+ and WE8+.
---
6 July
All members are reminded there is an Extraordinary General Meeting on Monday 11th July at 8pm in the clubhouse. The primary purpose is to consider amendments to the Club's constitution & rules.

Good luck to our crews at Henley Masters Regatta this Friday & Saturday. We have representation in 5 events: H4-, H8+, WF4x, WD8+ and WE8+.

We have crews competing at Kingston Regatta on both Saturday & Sunday.
---
23 June
We have a dozen junior crews racing at Egham Regatta on Sunday.
---
21 June
The results of last Sunday's 200 Club draw are now posted.

Preparations are underway for next Saturday's Pre-Henley Ball. If anyone cannot attend they can still support the raffle via Moni or Eva. Prizes will be allocated in sequence. Tickets are £1 each and will be named so if your ticket comes up you are guaranteed that prize and will be informed afterwards.
---
13 June
A fabulous set of results came from the Masters' Championships in Nottingham : 3 gold medals from H8, mixed F8 & D-novice 1x; and 8 silvers from mixed E2x, F2x, women's E4x, women's D2-, women's D IM3 1x, Mixed D8, women's E4+ and D-IM3 2x.
Overall, Weybridge ranked 6th on the club rankings up from about 18th last year. Congratulations to the whole team.

The British Olympic rowing squad has been announced for Rio. We're delighted to see that it includes Mat Tarrant who began his rowing at Weybridge in 2003/04. Exactly who will be in the pair will be decided after this weekend's World Cup regatta in Poznan. Good luck Mat !
---
7 June
Weyfarers are hosting day-time sessions for the Louis Braille School Cologne on Tuesday & Wednesday this week. Members are asked to make an extra effort to avoid creating potential trip hazards around the Club.

The British Rowing Masters Championships are being held in Nottingham this weekend. We have 22 entries, covering all boat types 1x, 2-, 2x, 4x, 4-, 4+ and 8+.
---
6 June
Here is a reminder that the Pre-Henley Ball on Saturday 25th June requires advance sign-up so we can accurately arrange the catering. Here is the link.
---
3 June
The National Schools Regatta was held at Dorney Lake last weekend. This is the largest junior regatta in the UK.
We had 2 crews taking part; it is rare that we race J14s at this level and it was pleasing to see our WJ14 4x come through the qualifiers and come 3rd in the D-final, so 21st out of 35 overall.
Our WJ16 4+ came 3rd in the B-final, which is 9th overall from 17 - one of only two non-school crews to make it that far.

We have a Women's IM1 4x and Eva's IM.1 1x racing at Metropolitan Regatta at Dorney on Saturday (4th).

The next Sunday Social is almost upon us - 5th June from 12noon at the clubhouse.
---
23 May
The weather for Walton & Weybridge Regatta turned out to be kinder than forecast. Our crews enjoyed some good racing and contested many finals. We ended-up with 3 wins: Geoff T 1x, Judy & Anne 2x, Jayne, Mags, Merryn, Lara & Rachel 4+. Of particular note was our WJ13 8x+ who had a very tidy race against WJ14 opposition.

At WLARC Regatta on Sunday, there was some exciting racing up the Cut which resulted in 2 wins for Lucy & Hattie 2x and Saffy, Amelia, Anabel, Steoh & Emanuela 4x+.

Rather belatedly, here are the results of the May time-trial session.
---
19 May
Good luck to our 22 crews racing at Walton & Weybridge Regatta on Saturday; and a further 20 at Weybridge Ladies Regatta on Sunday. Please note Desborough Cut will be closed on Sunday after about 8am. Non-racing crews must use the old river.
---
17 May
Pre-Henley Ball is on Saturday 25th June. Here is the poster (7MB pdf). It's the major social event of our summer. All are welcome at £25 per head to include a welcome drink and hog roast. Here is the sign-up sheet. There are some fabulous and unusual raffle prizes already lined-up. Please make every effort to join us that evening.

There was a huge turnout for John Kirk's memorial service on Monday as members past & present came from far & wide to congregate at St James. Thank you to all who attended.

The river has returned to normal levels but there is still some noticeable flow. The stakeboats will need to be anchored securely at Saturday's Walton & Weybridge Regatta!
---
13 May


Following the mid-week downpours the river is up and red boards appeared on Thursday. It remains to be seen if it drops by the weekend. Please check the EA links above.



Walton & Weybridge Regatta reached its entry limit early and entries are now suspended. Please remember that all member racing at WWR is required to help out too. Our home regatta needs many helpers to make it run smoothly and maintain its reputation as one of the best-organised events in the calendar.
---
5 May
There is a memorial service for John Kirk at St James Church, Weybridge, on Monday 16th May at 4.30pm. Followed by a reception at Oatlands Park Hotel from 5.30pm onwards. Members and friends wishing to attend either venue are requested to let Greg Jones know in advance, please.
---
3 May
Four wins
achieved at Marlow Spring Regatta in breezy conditions, all of them in Masters events : 'E'4-, 'G' 4-, Womens 'E' 4+ and Women's 'D' 8. A special mention for Anne, Jayne & Merryn for gaining their first sweep rowing points; and Rebecca for winning her first ever race as cox of the 4+.
James Coxhead has kindly posted his posted his photos of the afternoon & evening divisions.
---
29 April
It was with a great deal of sadness and shock that we learned today of the sudden passing of John Kirk from a heart attack aged 68. He was an oarsman at Weybridge for many years and, more recently, a valued member of the Club committee. John was a kind and generous man and we shall miss his wise counsel. We keep his family and, in particular, his wife Nikki in our thoughts.

Last week Paddy Swain passed away in a nursing home. Paddy won the Spreadbury Cup in 1950 for his efforts in moving the Club forward after the War. Until fairly recently, he was a regular visitor to the 200 Club events. His sons rowed at Weybridge; of of them - Michael - is now president of the Bermuda Rowing Association and maintains strong links with Weybridge.
---
28 April
The next Sunday Social is this Sunday 1st May from 12noon. In addition to the usual Bar offerings, there will be Greg's snacks from the kitchen and Special Re\serve Port left over from the recent Spreadbury dinner.

We have crews racing at Marlow Spring Regatta on bank holiday Monday.
---
25 April
Nine good wins at Lea Spring Regatta, including some first wins for some of our juniors. It's always special to be adding new names to the winners' lists. Major credit goes to Clive & Nick and their team for making this happen.

Next Saturday (30th) is the Elmbridge Canoe Club regatta : Desborough Cut is closed between 1300 and 1600hrs.

Here is a reminder that Walton & Weybridge Regatta is on Saturday 21st May. Please can all members and parents put this date in the diary?
---
22 April
Our regatta season gets underway on Sunday: we have 17 crews racing at Lea Spring Regatta. Good luck to all, especially those racing for the first time.

The biennial Spreadbury dinner is on Saturday (23rd). This event is organised by Greg Jones; it brings together a large group of folk who have collectively made a massive contribution to the Club over the past 60+ years. They also get to meet the current committee and share strories past and present.

Last week, Nick, Graham C & Carl spent a couple of mornings re-fitting the plank on the raft. It should be safer and easier to get boated now. We also disposed of the broken raft modules that had been damaged in the 2014 floods.
---
18 April
Three Weybridge crews contested the 15km Head of the Dart on Saturday. The course from Dartmouth to Totnes was truly coastal at the start but, despite the headwind, conditions improved as the crews raced inland. There was a win for the Women's Masters D eight in a time of just under one hour.
---
15 April
The seniors' water training sheet linked on the left has been changed to try and resolve some incompatibilities. Please update any bookmarks you have made to avoid using the old sheet.

Please take note that Thames Street in Weybridge is closed between Grotto Road and Old Palace Road due to a broken sewer. The alternatives are Monument Road & Grotto Road, or Portmore Park Road.
---
23 March
18 members will be taking part in the Cancer Research Great Row event on Good Friday (25th March) between about 0845 and 1300. So the clubhouse & ergs will be busy between these times. Support would be most welcome and there will be a bucket for donations. All proceeds will go to Cancer Research. Thank you.
---
22 March
We saw encouraging performances by the two junior girls' crews at the Scullery on Friday despite very little water time this year for juniors.
And the Novice8 had a solid row at Saturday's Head of the River, coming 7th out of 12 in their event.
We had excellent wins on Sunday at the Veterans' Head for both the WE8+ and the H8+.
The E8+ came a commendable 9th of 32 crews in their category.
---
14 March
Good luck to our two junior crews competing at the Oarsport Scullery at Dorney this Friday; and our novice crew at the Eights Head on Saturday; and our three masters crews at the Veterans' Eights Head on Sunday.

Max Porter represented the club at the National Junior Indoor Rowing Championships last Friday. He finished a commendable 47th out of 235 in the J13 event.
---
11 March
Kingston Head has been cancelled due to the strong stream.
---
7 March
We had two crews at the Women's Eights Head on Saturday: Novice & Masters 'E'. In cold and challenging conditions, both finished in the top third of their categories. It was great to see two competitive crews this year, so thank you to coaches Ashley, Elliot and John K-T for all their input and support.

We ran a small time-trial on the first Sunday of March. Results are posted here.
---
29 February
The next adult Learn-to-Row course will run from Sunday 24th April and run for 5 consecutive Sunday afternooons. Further details are posted here.
---
22 February
Congratulations to former Cranmore & Walton junior Callum Gathercole who has successfully rowed across the Atlantic solo in 58 days and 15 hours. Here is a BBC article. Callum is fund-raising for Princess Alice Hospice in Esher in memory of his father who succumbed to a brain tumour.
---
17 February
Saturday's Burway Head has been cancelled due to the strong stream.

The first 200 Club draw of the year is on Sunday (21st) from 12noon at the clubhouse.
---
12 February
We had crews entered for Molesey Veterans' Head on Saturday. But the event was cancelled on Friday afternoon due to the red boards.

Congratulations to former Weybridge oarsman Matteo Perucchini who has successfully rowed across the Atlantic solo in 52 days and 3 hours.
---
8 February
Results from yesterday's Hyne Cup race are published here.
The Hyne Cup was retained by Walton and their fast novice eight, but the Murtough Cup for IM3 eights was shared between Walton and Weybridge who recorded the same time. The Henry Stebbing Cup for women's eights was an all-masters affair this year and was won by the Weybridge 'E' crew on handicap.
Well done to all who raced and a big thank you to all who helped to make the race happen.

A small team led by Greg has made good progress on the men's changing room refurbishment. It was great to see that all of the rubbish was removed by members before Hyne Cup day. Thanks to all involved in this worthwhile project.
---
4 February
The Hyne Cup is this Sunday in 2 divisions at 10am and 11.30am.

The left-hand boat bay & blade racks are now lit by LEDs. They light-up much more quickly than the old tubes, as well as using less power. We'll do the other bays if the change is successful.

Our kit page has been updated with some new items and 2016 prices.
---
27 January
Well done to Our Masters 'H' crew won their event at Quintin Head on Saturday. In other results, Women's Novice crew came 7th from 25; Men's Novice crew came 11th from 17; Women's Mas.E were 2nd from 5; and Men's Mas.D were 4th from 5.
Here are some photos courtesy of David Newton.

The Club's Safety Brochure and Emergency Plan have been updated. Both are available at the top of the Safety page.
---
22 January
We have 5 eights racing at Quintin Head on Saturday, including both men's and women's novice crews. This is likely to be the first time we've taken 5 eights to an 'away' event.

Unfortunately, Burns Night supper has been cancelled due to illness amongst the catering team.
---
20 January
Refurbishment work in the men's changing room starts very shortly. Plans include new benches and new door. Please be wary for wet paint which can take a long time to dry at this time of year.
---
18 January
With regret, it has not proved possible to re-arrange
Weybridge Winter Head
this year. Please spare a thought for the organising committee whose efforts were in vain. We thank them for the hard work which is largely behind-the-scenes.
---
14 January
Weybridge Winter Head this Saturday 16th

January is CANCELLED. There seems to be no prospect of the river conditions improving sufficiently.

Thank you to everyone who entered or volunteered to help run the event.

We may be able to re-arrange for 30th January if there is sufficient interest.
---
11 January
The starting order for Saturday's Weybridge Winter Head has been published. The river is high, but not exceptionally so.

A decision on the event going ahead will be made on Wednesday night.
---
5 January
Circuit training sessions have resumed on Tuesdays at Heathside School, commencing 7pm sharp.
---
4 January 2016
The recent rain has caused the river to rise for the first time this winter. Please check the EA river conditions via the links above.
---
29 December
The next Sumday Social is 3rd January from 12noon at the clubhouse. Our president Dave Cox will be serving the famous Bermudan rum punch, courtesy of former member Michael Swain who is now president of the Bermuda Rowing Association.

Thank you to the work-day gang who spent part of their holiday Monday raking leaves and tidying-up the club.
---
21 December
The Club's Christmas pudding races were held on Saturday morning and went without a hitch. We had 70 participants - 20 more than ever before and Clive had to invent four new names for crews. The event fielded 14 boats and was won by 'Dancer' with 'Kringle' as the runner up and both finalists were awarded Christmas puddings. All crews involved Weybridge and Weyfarers RC members and Weybridge juniors; plus catering was by Sharon Pickering and 'Sharon's little helpers'.
There are photos posted here by Graham Jenkins.
At the gathering following the races, the Spreadbury Cup was awarded by the captain to Peter Lawson for his unsung help and support during the year.
The Beagley award for contribution to the Junior section was presented to Filippo Carrozzo by the incumbent holder Matt Andrews.
---
14 December
We had a large contingent racing at Saturday's Walton Small Boats Head. Alas some were unable to race because divs 3 & 4 were cancelled due to the windy conditions that appeared after midday. We had 6 wins based on divs 1 &2 :
Masters E 2x - Ashley & Peter
Women's masters E 2x - Anne & Judy
Masters G 1x - Geoff D
Women's masters E 1x - Rachel
WJ14 1x - Anya
Masters novice 1x - Paul

Our 2 intrepid competitors at the British Rowing Indoor Championships both did Weybridge proud after months of dedicated and often punishing ergo sessions. Both reduced their personal bests by about 10secs:
Emma Doyle 7:54.7 in 30-39 lightweight category (pictured below)
Sandra Gates 7:48.0 in 40-49 lightweight category
Well done.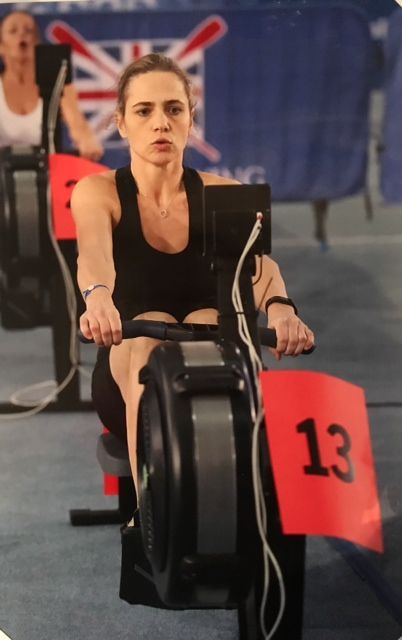 (click to enlarge)
---
9 December
Last Sunday's 200 Club draw results are now published.

Thankyou to everyone who supported the Charity Raffle which raised £550. Half goes to the homeless charity CRISIS; and half to the 200 Club project to refurbish the club changing rooms.
---
6 December
Sunday's time-trial results are now on-line. It was held in the Cut to avoid the worst of the wind.

Scullers Head was called off due to the adverse forecast for wind. Even at Weybridge, it was challenging for big boats.
---
2 December
We have 4 brave masters doing the Scullers' Head on Saturday. Good luck to Geoff T, Graham S, Rachel & Anne.

A reminder that the combined 200 Club draw & Christmas charity raffle is in the clubhouse this Sunday 6th December from 12noon.
---
26 November
This Saturday is Burway Small Boats Head. We have a couple of entries in masters events.

Details for Weybridge Winter Head on Saturday 16th January have been published.
---
16 November
The clubhouse was filled to capacity on Sunday for the President's Reception, with guests from Elmbridge Council, Weybridge Physio & all of the neighbouring clubs on our reach.
Dame Di Ellis presented Greg Jones with his British Rowing Medal of Honour, in recognition of a life-time spent supporting our sport from grass-roots all the way through to international level. Thanks to all those who came along and those who cleaned & prepared the venue, including Greg himself.

We had some masters racing in small boats at Teddington Sculls last Saturday, but alas no wins this time around.
Next event is Burway on Saturday 28th November.
---
9 November
The Veteran Fours Head was held over the full Tideway course yesterday in challenging, blowy conditions. We have 2 wins to report: men's H 4- and women's masters IM3 4x. In other categories, women's.D 4+ crews were 2nd and 5th from 6; men's C 4x were 4th from 6; men's E 4- 3rd from 4; and F 4x 3rd from 5. Full results and photos are on-line.
---
30 October
This Sunday is 1st November, so there are two time-trial sessions on the river. That is followed by the Sunday Social in the clubhouse from 12noon.

After the organisers clarified which of the masters events were being grouped together, our Masters G 4x was declared winner of masters F/G/H 4x at Upper Thames Autumn Head.

We have a Masters E 4- competing at Kingston Small Boats Head on Saturday afternoon.

A reminder that notes from your Committee's meetings are published on-line in the Members' area.
---
23 October
The Weyfarers & Weybridge Christmas Party is at Silvermere on the evening of Saturday 28th November. Here's the invite , the menu and the booking form. All are welcome.

We have a Masters G 4x racing at Upper Thames Autumn Head at Henley on Sunday.
---
22 October
Here is a reminder that annual subscriptions are due in October. The new categories & rates agreed at the AGM are shown here.
---
21 October
It is with great pride and pleasure that we can announce that this year's British Rowing Medal of Honour has been awarded to our very own 'Greg' Gregory-Jones. This is BR's highest award and is in recognition of Greg's outstanding contribution to the sport over more than 40 years at local, national & international levels. Greg has requested that the presentation be included in the President's Reception to be held at Weybridge Rowing Club in Sunday 15th November from 12noon. Please let Dave Cox know if you can attend so that numbers can be know for catering purposes.

At the recent October committee meeting, Nick Coxhead was elected as Chairman. The Committee list has been updated.
---
20 October
Photos from Silver Sculls are online, taken by Ian Weir.
---
19 October
5 wins for Weybridge scullers at Silver Sculls: congratulations to Anne & Judy in their 2x, David H, Geoff D, Rachel & Fiona in their respective masters 1x events.
The Silver Sculls trophy went to Laurence Wells of Army RC whose winning time of 12:49 was the 2nd fastest ever.
Thank you to everyone who helped out so enthusiastically with the running of the event. Please pass any comments or feedback via your team leader because we would love to hear your observations.
---
16 October
Best of luck to our 29 boats contesting Weybridge Silver Sculls on Saturday. Thank you in advance to the army of volunteers are working hard to make the event run successfully.
The event history has been updated to reflect the new record entry this year. Race founder Dicky Bird and long-time secretary Derek Roy would be very proud indeed.
---
13 October
We've had a bumper entry for next Saturday's Weybridge Silver Sculls. The starting order is now published.

Pairs Head was held in trcky headwind conditions on Saturday. So well done to all crews for completing the course and, in particular, to Rachel & Mags for winning women's E 2- ; plus Anne & Judy came 2nd in women's E 2x.

Results of the recent 200 Club draw are now on-line.
---
8 October
Good luck to our 6 crews racing at the Pairs Head on Saturday, from Chiswick to Hammersmith.

There is a collection of lost property in the clubroom. Please can members re-claim any of their kit? Anything left in a couple of week will be given to charity shops or the recycling bank.
---
5 October
The results from Sunday's time trial pieces are posted here. Thanks to all who took part or helped with time-keeping & marshalling.
---
28 September
The following people joined the committee at the AGM : Jayne Brady (vice-captain), Fiona McAnena & Kathy Klaka.
Our thanks to Judy, Tim, & Dudley who have stepped down.
Everyone else was re-elected.
The full list is available here.
---
21 September
Impressive results from Boston Marathon : Eva won W.Sen 1x in 4hrs 41mins 29secs ; and Anne won W.Mas.F 1x in 5hrs 00mins 39secs, which is a new course record for this category.

The next 200 Club draw is this Sunday (27th) from 12noon.
---
15 September
Boston Marathon is this Sunday. Good luck to Anne and Eva who are doing the 31 miles in their respective single sculls.
---
11 September
Thanks to the sterling efforts of Paul T, Derek, George & Graham C, the fallen tree at the upstream end of Desborough Island has been cut back to allow normal navigation.
---
10 September
Weybridge Silver Sculls is on Saturday 17th October. Members are asked to put this date in their diaries and plan to assist the running of our home sculling head race. Offers of help to Rachel, please.

Our president Dave Cox is planning a grand tidy-up of the club grounds on the morning of Sunday 20th September. Thank you to those who have already made a start by taking away the old fridge and cutting the grass.
---
4 September
Congratulations to Matt Tarrant for his first World Championship gold medal, in the 2+ at Aiguebelette in France. The race result shows they were a huge 6 seconds clear of the rest of the field. Matt began his rowing career as a junior at Weybridge 10 years ago.
---
2 September
The Rag Regatta is this Sunday 6th September, organized by the juniors led by Alex Haines. All are welcome to arrive for 10am for assignment of the mxied teams. Races commence at 10.20. Here is the sign-up sheet.


Hot drinks & snacks will be avaialble in the clubhouse. Plus the bar will be open ahead of the regular Sunday Social.
---
21 August
All crews training on Saturday (22nd) should be aware that Walton Reach Regatta is happening in the vicinity of Thames Valley Skiff Club. Only a narrow navigation channel will be available for non-racing boats. Please take extra care, or stay upatream of Walton Bridge.
---
9 August
We had 3 winning crews at Maidenhead Regatta on Saturday : mixed masters E 2x, women's IM3 4x and mixed masters E 4x. Well done.
---
30 July
Here's a reminder that Weybridge town centre will be out-of-bounds on Sunday 2nd August due to the Ride London bike races.

We have 7 senior & masters crews entered for Maidenhead Regatta on Saturday 8th.
---
29 July
British Rowing have published a short article on the Community Regatta.
---
27 July
There are junior Learn-to-Row courses running this week and next week, Monday-Friday 9am-1pm.

The Home International Regatta results are on-line. Layla's 4+ won their race; Layla & Phoebe came 3rd in the 2x. England won the Junior Women's competition overall.

4 wins out of 4 entries at Staines Regatta on Saturday : W.Masters 4x, WJ15 2x, W.IM3 2x, W.IM3 4x.
And 2 more at Burway Sprint Regatta on Sunday : Rachel in 1x, and Anne & Phil in mixed 2x.

Here is advance notice that the Annual General Meeting will be held in the Clubhouse on Thursday 24th September at 8.30pm.
---
22 July
A reminder that the Community Regatta is this Friday (24th) in Desborough Cut. Please come along and support and/or volunteer to help out.

The next Sunday Social is brought forward to this Sunday 26th July at 12noon in case there is some real ale left over from the Community Regatta.
---
21 July
Layla & Phoebe have been selected to race in the 2x for England in the Home Countries International regatta at Strathclyde Park this weekend.
Layla, through the trials system, will also race in the 4+. Congratulations to coach Mark & the girls.
---
20 July
15 junior boys & girls went to Strathclyde for the British Rowing Junior Championships last weekend. They've just returned with 4 medals : 1 gold, 1 silver and 2 bronze.
Gold : WJ 2x Layla & Phoebe
Silver : WJ 4- Layla, Phoebe, Megan & Emilia
Bronze: WJ 2- Megan & Emilia
Bronze: J16 4x Scott, Fraser, Arun & Adam.
Further, all crews had qualified through the time-trials for the A,B & C finals. Wonderful results. Well done to all and a special thank you to Gus Cowie & Mary Foulkes for towing the trailer 400 miles each way.

Nearer to home, Rachel sculled down to Molesey Regatta on Saturday, won W.Mas.E 1x and paddled back.
---
17 July
We have 9 crews racing at the British Championships for juniors at Strathclyde Park this weekend.

At Molesey Regatta we have 3 boats racing in Saturday's programme for seniors & masters.
---
16 July
Some people using iOS reported issues with the old availability sheet for seniors. It has been replaced by a view version and Rachel has copied across the recent data. The link on the left was updated at 1700 today.
---
15 July
Following several reports of anti-social behaviour in Desborough Cut, if you see anything causing concern then please call Surrey Police on 101 quoting reference P151 698 22.
Some of the people seen on the Top Cut bridge have demonstrated their violent nature, so please don't approach them - just call 101.
Here is a witness appeal from Surrey Police.
---
13 July
We had 2 wins in fours at Henley Masters Regatta with Women's D 4+ and men's H 4- both bringing home medals.

At Kingston, there were 4 wins on Saturday : GeoffT 1x, Anne 1x, Anne & Judy 2x and mixed masters 4x.
Plus on Sunday at Kingston, Jade & IzzyT won WJ15 2x. Well done all.
---
9 July
Henley Masters Regatta runs this Friday & Saturday. We have 5 crews participating.

And we have more than 20 crews taking part in the Kingston regatta weekend.

Further afield, Layla Wheeldon is at Nottingham for final junior squad trials this weekend.
Judging from this BBC article, they've been cleaning-up the lake at Nottingham.
---
29 June
Two recent wins to report for the junior squad : J16 4x won at Thames Valley Park Regatta last Sunday; and J18 2x won at Magna Carta Egham Regatta yesterday. Well done all.

Sunday's 200 Club draw result is now on-line.
---
22 June
At Women's Henley, our WJ 4+ were pipped by Kent School USA by just a canvas.
---
18 June
Good luck to our two crews entered for Henley Women's Regatta this weekend : the events to watch are WJ18 4+ and W.Sen 2x.
---
15 June
Despite the rain, there was excellent weekend for Weybridge crews at the Masters Championships : 5 golds, 2 silvers and 4 bronzes. That's double the tally from last year. Full details here.
---
12 June
We have 18 boats racing at the British Rowing Masters Championships at Nottingham this weekend. This is now a 2-day event.
---
8 June
Walton & Weybridge Regatta was held in sunny & breezy conditions on Saturday. We gained 5 wins, plus many more crews who made their finals. A Big Thankyou to all those who helped run the regatta - we know there is a lot of effort behind the scenes.

We had 3 further wins at Weybridge Ladies Regatta on Sunday, inlcuding a first win for WJ13 quad who came through 3 tough races.
---
2 June
The draw for Saturday's Walton & Weybridge Regatta has been published.

The 200 Club draw dates have been updated.
---
29 May
The Weybridge Community Regatta is on Friday 24th July. Registration is now open via the event website (also linked from the blue logo at top of this page). Here are the key points:


- T

eams are 4 people to row in coxed fours and no previous experience is necessary. Teams can be single sex or mixed.
- We teach the team to row, but we offer a brilliant day out with at least two races on the water and one indoor team relay event and lots of opportunity to meet and network with other local businesses.
- B

reakfast, lunch and dinner will be provided and we are creating winners' medals especially for the event. They are sure to become collectors' items.


- Entries close on 1st July and we are limited to 32 teams.
It would be great if members could encourage their own work teams to enter or invite other businesses with whom they have contact. All proceeds come to the club to be invested in developing grass roots sport in Weybridge.
Here is an article by Weybridge and Walton Physio

who participated last year.
---
28 May
The next adult Learn-to-Row course starts on Sunday 21st June and runs for 5 consecutive Sunday afternoons. Full details and application form are online.

There is a junior Rowing Courses running this week during half-term with 12 eager participants.
The next scheduled junior courses are in the school summer holidays : 27th-31st July ; and 3rd-7th August. Full details here.
---
18 May
Best of luck to our 10 crews racing at National Schools Regatta in Nottingham next weekend. The draw is now up.
---
12 May
We have a small contingent of 6 boats racing at Thames Ditton Regatta on Saturday.

Elmbridge Council have an update on the new toilets & cafe building at Cowey Sale.
---
11 May
Borne Regatta on the tideway was held in bright and very breezy conditions on Saturday. We recorded 4 wins . Well done to all.
---
9 May
Weybridge Rowing Club welcomes you to our quiz night held on Friday 29th May.
We are hoping for multiple teams of approx 4-6 members from our neighbouring clubs to go head to head and compete for the winning team title & first place prize.
Bar opens at 7pm and the quiz will start at 7.30pm

. Tickets are £5 per person on the door and include nibbles.


We look forward to welcoming you for what hopes to be an entertaining evening!
Please see the poster linked here.
---
6 May
We have 9 crews entered for Borne at Chiswick Bridge Regatta on Saturday.
---
5 May
We had 5 wins at Marlow Spring Regatta on holiday Monday in bright & breezy conditions. The rain only arrived during the post-regatta unloading session. Well done to all who raced or supported.

No wins at Wallingford this year, but a 2nd place, two 4ths and a 5th place represents good efforts in tricky windy conditons, in particular for juniors racing in elite events.
---
30 April
The next Sunday Social is nearly upon us - Sunday 3rd May, from 12noon. All are welcome.

We have crews racing at Wallingford Regatta at Dorney Lake on Sunday; and at Marlow Spring Regatta on holiday Monday.
---
27 April
The results of yesterday's spontaneous time-trial session are now on-line.
---
23 April
Best of luck to Layla Wheeldon in the GB junior sculling trials in Nottingham on Sunday.
---
19 April
The Committee has published the Club Strategic Development Plan for the next 5 years. It can be found on the Development page alongside the previous plans.

Dick Thompson, salwart of Walton RC & former chairman of Walton & Weybridge Regatta, passed away on Saturday. He had many Weybridge friends over the years and was a character of our reach from the 1970s to the late-2000s.

Clive has put together a list of regattas which could be relevant to Weybridge crews.

---
15 April
Congratulations to the women's 4x who won at the 15km Head of the Dart on Saturday. This brings our club tally to 8 head wins since January.
---
31 March
The next 'Sunday Social' will be this Easter Sunday, from 12noon in the clubhouse. All are welcome.



Following their long paddle down the Wey Navigation, canoeists from Elmbridge Canoe Club will be passing through our premises between about 12.00 - 13.00 on Easter Sunday, en route back to the Thames.
---
30 March
Here are the results from the weekend's racing on the Tideway:
- Veterans' Head : 'D' crew 16th out of 40 ; women's 'C' crew 6th from 10 ; 'G' crew unfortunately unable to start due to injury sustained in the warm-up.
- Head of the River : novice crew 4th out of 14 and 241st overall.
Well done to all crews for returning respectable results in tricky, blustery conditions.

Easter training camp at Seville commences on Thursday.
---
27 March
We have 2 men's and 1 women's crew at the Veterans' Head on Saturday, starting at 11am.
The main Head of the River is on Sunday at 12.30pm with our novice crew taking part.

The sculling blades have been sequenced by Rachel this week and assigned as follows:
Sets #1-4 for W4x
Sets #5-8 for JW4x
Sets #10-13 for JW4x
Sets #16-19 for M4x
Sets #39-42 for W4x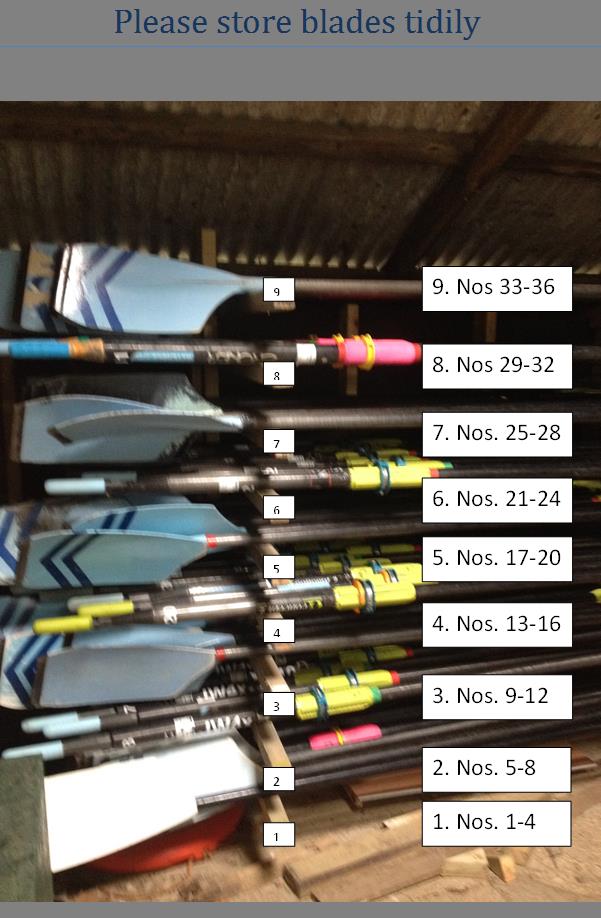 ---
23 March
The Safety Brochure has been updated for 2015, with changes to the Risk Assessment guidelines on page 6. You can find it on the Safety page.

Saturday's Kingston Head was held in chilly, breezy conditions. Times were slow due to the headwind and lack of stream. Our Masters 'D' crew won their event; Masters 'F' crew came 2nd.

Some very respectable results from the Schools Head last Monday : our J16 4x came 2nd from 5; WJ18 4+ came 3rd from 20 crews. Well done.
---
20 March
We have 2 Masters crews racing at Kingston Head on Saturday.
---
16 March
Well done to the Novice VIII who raced at the Women's Head in difficult headwind conditions on Saturday. They came 3rd out of 17 in their novice-club category and 170th overall out of 296.
---
13 March
The next 200 Club draw is on Sunday 22 March from 12noon. It will include a brief AGM at 1pm, followed by the draw itself.

Also on 22 March, the Brooklands Half Marathon is passing through Weybridge. Thames Street & Walton Lane will be closed from about 9am to 11.30am.
---
12 March
Good luck to the women's novice eight who are racing in the Women's Head on Saturday. It's an early start time - 9.30am.
---
9 March
The results for the Hyne Cup race are now available. Thank you to all those who helped out with timekeeping, marshalling, catering and supporting.
---
6 March
The starting order for Sunday's Hyne Cup race is now available. The course is from Canoe Club down to Miskins' Wharf.
---
27 February
Burway Head has been cancelled due to the stream. Our reach is on yellow boards today so there's a good chance some crews will get afloat this weekend.

The next Sunday Social is this Sunday 1st March, from 12noon. All are welcome.
---
24 February
This year's Hyne Cup race is on Sunday 8th March at 11am.
---
23 February
We had 2 eights racing at Molesey Veterans Head on Saturday. The men's crews came 3rd overall; and the newly-formed women's crew won the Masters C/D event.
---
9 February
There was a win at Hampton Head for Megan and Layla in WJ18 2-.
Congratulations to Hermione Leonard who came 2nd (of 6) in her category at the British Indoor Rowing Championships, with a highly respectable time of 7:52.5.
---
5 February
The dates for the next adult "Learn to Row" course are now confirmed as Sunday afternoons from 12th April until 10th May inclusive.

On Sunday, Hermione Leonard is our sole representative at the British Indoor Rowing Championships being held at the Lea Valley Velodrome, in the Women's Masters Lightweight category.
---
4 February
We have 5 junior crews contesting Hampton Head on Saturday. The race starts just below Sunbury Lock, with divisions at 10am and 2pm.
---
3 February
Sunday's time trial results are now posted. Thanks to the timing team for braving the cold conditions.

Our Masters D eight racing at Quintin Head came 3rd from 6 in their event.
---
30 January
Thames Valley Time Trial
has been cancelled due to the weather forecast for Sunday. We suspect it's the wind direction that is the problem - a notrth-westerly would blow straight down the lake towards the pontoons.
So instead there will be a Sunday time trial on our reach, in two divisions, both upstream over the Silver Sculls course. Meet at the clubhouse at 0800 and 0945 for a briefing and issue of numbers.
---
29 January
We have a Masters D eight racing at Quintin Head on the tideway this Saturday.
And on Sunday, we have a number of junior & senior crews at Dorney Lake for the Thames Valley Time Trial.

Sunday is 1st February. The Sunday Social kicks off in the bar at 12noon. All are welcome.
---
26 January
Our reach looked perfect for a great day on the river for our Weybridge Winter Head in cold but summy conditions. A huge thank you to all who helped out; the switch to a downstream course required a fair bit of learning but we had a really good turnout of volunteers and the whole day ran really very smoothly. On the water we had five wins; Mas G 8+, J16 4x-, IM3 4+, WIM3 4+ and WJ18 2-. Well done, all!
---
22 January
Weybridge Winter Head is on. We're on yellow boards now. Any rain on Friday night shouldn't affect the flows on Saturday. The forecast for Saturday is chilly, so crews should dress appropriately. Hats & gloves during the marshalling are a good idea.
---
21 January
Weybridge Winter Head is this Saturday. Note that the course is downstream this year, which makes the marshalling easier with the increased number of crews compared with just a few years ago. 224 crews appear in the Starting Order. River levels continue to drop since there has been very little rain this week. Let's hope we get yellow boards before the weekend.
---
5 January
Here are the time trial results from Sunday. Well done to those who took part and thanks to Nick, Mark and Matt for time keeping.
---
2 January 2015
There was a good turn-out for the work party on Tuesday morning. Much was acheived and the club premises are looking very spruce. Thanks to everyone for the grand effort. Some bags of rubbish need taking away for disposal, please, by anyone who is parking nearby.
---
24 December
Details for Weybridge Winter Head on Saturday 24th January are now on-line.

The President is organising a half-day clear-up on the morning of 30th December, commencing at 9.30. Please bring old clothes and gardening tools, if you can.
---
22 December
Today we held well-attended and tightly contested Christmas Pudding races, organised by Clive and Nick and catered by Sharon and her team. Eight boats competed in coxed quads and the winners and runners up were presented with Christmas Puddings. We also held a plate contest for first round losers so every crew raced at least twice on the weir-constrained short course in front of the club.
After this, the Beagley Cup (junior equivalent of the Spreadbury) was presented by Jon's mother, Kay Lawrence, to Matt Andrews for junior contribution to club life. Rob Steel was thanked for all he has done in his year as Junior Captain 2014, and Alex Haines was appointed Junior Captain for 2015. We wish her well.
We then formally named the blue coaching launch 'Jon'. His shorts adorned the flagpole and Matt and Anna Beagley wet the boat with a bottle of Brakespears.
Here are a collection of photos by Dave Gaylard.

Thanks go to Anatole Beams for making the decals for the launch 'Jon' and for all of the blades.
On Saturday, Graham Campbell was presented with the Spreadbury Cup in recognition of his consistent willingness to 'do things' however cold and tiresome and for all he has done and continues to do quietly in the background to support the running of the club.
---
15 December
There were 4 wins for Weybridge at Walton Small Boats Head held on Saturday in idyllic but chilly conditions : WJ18 2- (Megan & Layla), WJ17 2- (Becky & Alex), WMasE 2x (Rachel & Mags) and WMasE 1x (Rachel).

The 2014 winners list is now complete with a terrific 85 wins, despite the reduced number of races due to the weather last winter.
---
9 December
We had a small number of crews racing at Burway Small Boats Head last Saturday. For most, it was their first race. Congratulations to Kay, Jackie, Zoe, Jessica, cox Claudine for winning Women's Novice 4x.

Sunday saw a time-trial held over 2 divisions, both downstream. Well done to all who took part and thank you to the time-keepers, including those from Walton in the joint 1st session. Here are the results.

---
1 December
Results are now available for Hampton Small Boats Head. There were wins for Laya & megan in WJ18 2- ; and Fraser in U19 Nov 1x.

And the results for Scullers Head are now online.
---
27 November
Results from last Sunday's GB junior sculling trials are now on-line. Layla was our highest-placed sculler over the 5km, coming in a creditable 19th out of 72. Well done to all who took part, or organised transport & support for the athletes.

We have 6 plucky scullers contesting the Scullers' Head on the tideway tomorrow.

A further 12 junuor boats are at Hampton Head tomorrow.

We were sorry to read this the national news yesterday. The couple involved are the parents of Tim Kettyle, who was one of our J16s last year until injury forced him to give up rowing. We offer him our condolences at this difficult time.
---
For older items, look at the news page.